WBM Himalayan Salt Basket Lamp is one of the two lamps I bought at Amazon for the very first time. I purchased it together with WBM Hand Carved Natural Lamp.
I own quite a few Himalayan salt lamps but this salt basket lamp is completely different from any other lamp in our home.
Update: January 2020
The manufacturer apparently has changed the style of the basket. Now it looks as the image below. It's still pretty and will be less hassle to change the salt rocks!
Product at Glance
WBM Himalayan Salt Basket Lamp – Pillar Style (with Salt Chunks)
Company: WBM International LLC
Price on Amazon: $21.50 … Please note, the price often changes on Amazon
Size: 5.3 x 5.3 x 7.9″ (Basket), 6 pounds
15W Bulb included
6 Ft Power Cord
Dimmer Switch
Review: 4.5/5 stars on over 311 customer reviews
Free shipping with Amazon Prime
Watch me unbox and set up this beautiful lamp
Absolutely Stunning…
I am a huge fun of Himalayan salt. I have candle holders, salt blocks, cooking salt, bath salt and quite a few selections of salt lamps as well. However, this is the very first Basket-Style Lamp I have purchased and I absolutely love it!
It is just so beautiful to look at. I hope that the image above is enough to show you how pretty the lamp actually is. I placed the lamp on a table in the living room and took this photo. Currently, the lamp is sitting on the kitchen counter so that it's going to always be in my sight as I work in the kitchen.
On Amazon, the other lamp by the same company, WBM, was the first item that caught my attention as it is Amazon's #1 Best Seller product in the salt lamp category and the customer reviews marked 4.4 out of 5 stars.
But this basket lamp was reviewed even higher, 4.6 out of 5 stars so I had to give it a try. I am so glad that I did.
Quick Delivery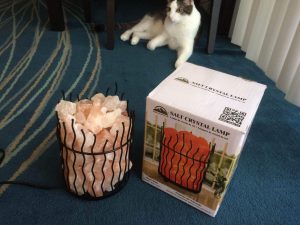 This product is a part of the Amazon Prime program so if you are a Prime member like me, shipping is not going to cost you anything. Free shipping is always a big plus in purchasing salt lamps online as they could be quite heavy.
Delivery was super swift and it took only two days to arrive. It was securely packaged in an Amazon box as you can view in the video together with the other lamp, WBM Hand Carved Natural Lamp I ordered. No damage, no deficiency, and both lamps were all in good shape. The unboxing process, however, required more work than I had expected which I am going to discuss in the next section.
Be Prepared for Unpacking!
A normal type of Himalayan salt is very simple to set up. You just unbox it, plug in and there you'll have a beautiful salt lamp lit.
But this basket type demands more work to properly set up and could be a bit pain in the butt. You can watch the entire process I had to go through in the video above. Be sure you at least have:
A box knife
A large sheet of newspaper or towel
This basket lamp is so securely packaged that you'll have to cut a lot of tapes just to open the wrapping. Also, you need a sheet of paper or a large towel where you can temporarily place and spread all the salt chunks. The basket is already stuffed with salt chunks at the time of delivery, but you must first empty it in order to remove the cover over the light bulb which is mount at the bottom of the basket.
Then, you have to put all the salt chunks back in the basket… Yes, you guessed it right. This is the process needs to be repeated every time you change the light bulb! But do not worry, a light bulb for this size of Himalayan salt lamp lasts a long time. I normally change them once a year.
Nonetheless, this process can create quite a mess with all the salt chunks and particles all over the floor if you are not prepared.
In the video, you will see that I ended up using their wrapping plastic film to place the salt chunks. As I didn't know what to expect, naturally I didn't have anything ready close by and since I was filming I could not pause the video and leave the scene at the time.
Another suggestion. If possible, avoid unboxing this lamp on a carpet like I did in the video. 😛
Dimmer Controller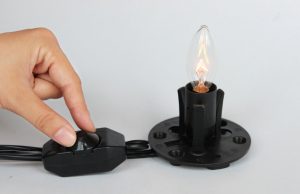 The Himalayan Salt Basket Lamp comes with a rotary dimmer controller. You can turn it down as dim as you like or turn it up as bright as you like.
Basically, you can adjust the light perfectly to your liking. It is absolutely a nice feature that most of the salt lamps on the market are not equipped with, and I love this about WBM Himalayan salt lamps.
Other Styles Available
What I purchased was a pillar style, which I am very happy with. You can choose other styles of WBM Himalayan Salt Basket Lamp available on Amazon.
6 Ft Power Cord
Dimmer Controler
Free shipping with Amazon Prime
Size: 9″ x 9″ x 5.5″ (Basket), 9.4 pounds
25W Bulb included
6 Ft Power Cord
Dimmer Controler
Free shipping with Amazon Prime
Black Metal Basket
6 Ft Power Cord
Dimmer Controller
Review: 4.8/5 stars
Free shipping with Amazon Prime
If Giving It as a Gift

This beautiful salt basket lamp will make a wonderful gift for any occasions. Since the unpacking process is quite troublesome, however, if you are planning to give this as a gift, I suggest that you unbox it, set up the light bulb, place all the salt chunks back in the basket and wrap it as a gift. It will make everything so much easier for the receiver to enjoy this unique lamp.

Home Decor with Health Benefits

This salt basket lamp is great as a home decoration and still possesses the same effects as an air purifier like regular Himalayan salt lamps. When it's heated, this special pink salt is believed to emit negative ions into the air and neutralizes electro-pollution. They say it's due to the fact that Himalayan salt was formed some 300 million years ago when Earth was pristine and possesses the natural cleansing power of the ancient planet. There is no scientific evidence to support its effects as an air purifier, but many users have reported fresher air and improvement of their health issues.

I have a very sensitive respiratory system and tend to sneeze with the slightest change of temperature or dust in the air. Since I began using Himalayan salt lamps in our home, my reactions got a lot lighter.

I've also noticed that I don't get as fatigued after working many hours in front of a computer in my study where I always leave two salt lamps on all the time.

Elegance Under $30

Most of WBM Himalayan Salt Basket Lamps are available on Amazon between $20-$30. Not only will you notice the health benefits mentioned above, but you will also find the gentle amber color of the lamp extremely soothing and comforting. If you are looking for a unique and elegant addition to your home environment, I recommend giving a WBM salt basket lamp a try.

Product at Glance
Price on Amazon: $21.50 … Please note, the price often changes on Amazon
Size: 5.3 x 5.3 x 7.9″ (Basket), 6 pounds
15W Bulb included
6 Ft Power Cord
Dimmer Switch
Review: 4.5/5 stars on over 311 customer reviews
Free shipping with Amazon Prime

I hope this review has given you a good idea what to expect from Himalayan salt basket lamps and how they will lighten up your life. If you enjoyed this post, feel free to share it with your friends. Please leave any feedback or questions below in the comment area. Love, peace, and light to your life!

Yuko