Mother's Day is coming up! Seeking inexpensive Mother's Day gift ideas? You have come to a right place. Here I recommend inexpensive yet unique and beautiful gifts for your mother!
What I recommend for you are Himalayan pink salt products, which are lamps and candle holders made of natural rock salt. They are beautiful, memorable and yet inexpensive. You will easily find one that you would like under $30.
Himalayan salt has been a big part of my everyday life for several years now. I have many lamps, candle holders and use Himalayan salt for cooking too. I'll share my knowledge and experience with salt lamps in this post so that you can find one that you like for your mother.
Recommended Lamps under $30
These are my recommendations as a Mother's Day gift under $30. They all have high customer reviews on Amazon and I personally own two of them. I've been using them for 3 years and am fully satisfied. You can read more detailed reviews as you scroll down.
Height: 11″ / Weight: 12.4 lbs
15 light bulbs included
Stainless base
Dimmer Control
Free shipping with Amazon Prime
2.5 W light bulbs included
Plastic case
5 Ft Power Cord
Dimmer Control
Free shipping with Amazon Prime
Hand Carved
Wood base
15W light bulb Included
6 Ft Power Cord
Rotary Dimmer Control
Free shipping with Amazon Prime
15W light bulb included
6 Ft Power Cord
Rotary Dimmer Control
Free shipping with Amazon Prime
Each Lamp has Unique Color
Himalayan salt lamps are known for their soothing glow when lit.
As the light penetrates the rock salt, the lamp radiates a warm coral pink color. This color was produced through a long process in the sea, which use to cover most of Asia, but dried up slowly over 300 million years. It surely is amazing and gorgeous.
Since the salt is a product of nature, the color of each lamp varies. See the two lamps here? They are both used in my house. The one on the left has a brighter light than the one on the right. Like these, each lamp is unique and special.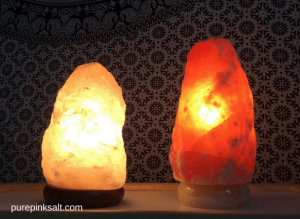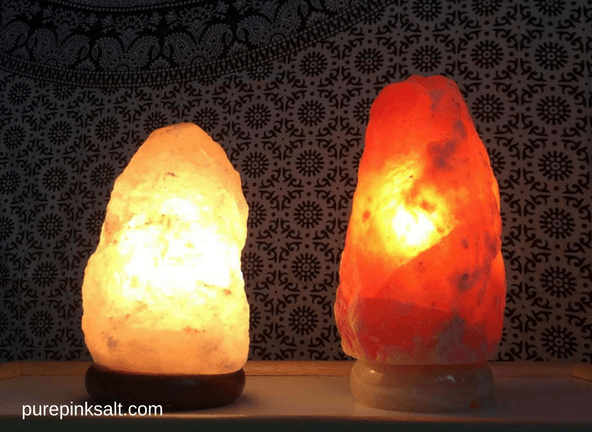 The one on the right is in my study where I spend most of the hours working, and the glow of this salt lamp has a calming effect on me. It is also the first thing that my friends acknowledge when they come in the room.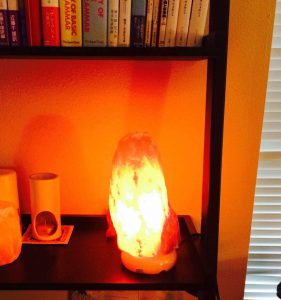 Himalayan salt lamps are for decoration and not used for lighting purpose. It's not going to replace your reading light by the bed. But the soothing amber color indeed adds a special atmosphere in the space.
Inexpensive and Special
These lamps are quite affordable. The price depends on the size and stores you go to, but you will be able to find a nice looking medium size (6″ to 8″ tall) for $20-$40. The bigger a lamp is, the more expensive, of course.
There are many online shops that sell Himalayan salt lamps. One thing you must watch out for is their shipping fee. These rock salt lamps are quite heavy. A medium one typically weighs about 7 lbs and shipping may cost quite a bit if the shop doesn't offer free shipping.
1. High-Quality Lamps from Himalayan Salt Shop
I sometimes shop at Himalayan Salt Shop as they carry high-quality authentic Himalayan salt lamps. I bought the one below by the window from them. They do charge a shipping fee and it's about $16 by FedEx for a medium-sized lamp. I paid about $40 for this lamp including the shipping fee and am quite satisfied with the purchase as the lamp is so lovely.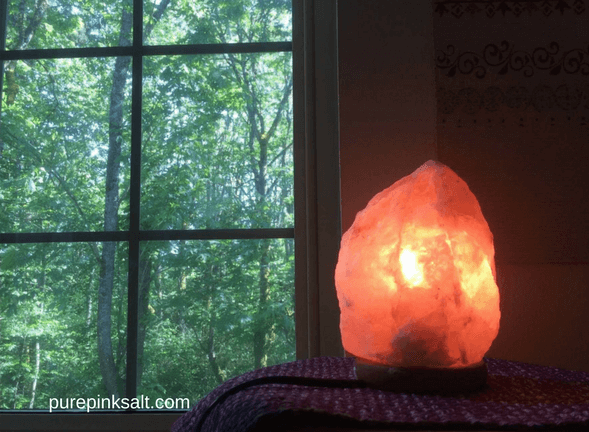 Right now, they have a special Mother's Day Sale going and you can get 15% off of your purchase. Don't forget to click and copy the coupon code MOM17 on top of the web page and paste it as you go through the checkout process. With a purchase of a $24.99 lamp, it's going to be a $3.75 savings. It's well worth a look.
2. WBM Crystal Himalayan Salt Lamp
Amazon could be the most inexpensive place to purchase salt lamps.
If you shop at Amazon just like anybody else, I recommend WBM Crystal Himalayan Salt Lamp below which is about $25. This lamp is an "Amazon Prime" item so you won't have to pay for shipping if you are an Amazon Prime member. I've been using this lamp
I've been using this lamp for over 3 years. I am particularly happy with its dimmer light control. A typical salt lamp comes only with a simple ON/OFF switch. A rotary dimmer control is a very nice feature of this particular lamp to adjust the light perfectly to your liking.
Read also a full review of this lamp in a separate post.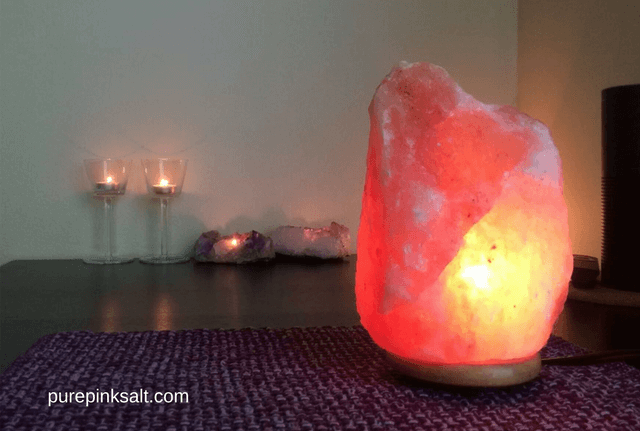 3. WBM Pillar Style Basket Lamp
Another lamp I purchased from Amazon is quite unique. It is an HWBM Pillar Style Basket Lamp and simply stunning sitting on my kitchen counter as you see in the photo below. I paid about $23 for this lamp. It's also an Amazon Prime item so comes with free 2-Day shipping.
This lamp, however, could be a bit troublesome for your mother to set up. If you wish to get this lamp as a gift, I recommend that you assemble it before giving it to your mother. You can watch how I assembled this basket lamp in the video within my review. To me personally, it was worth the hassle as it is so pretty to look at.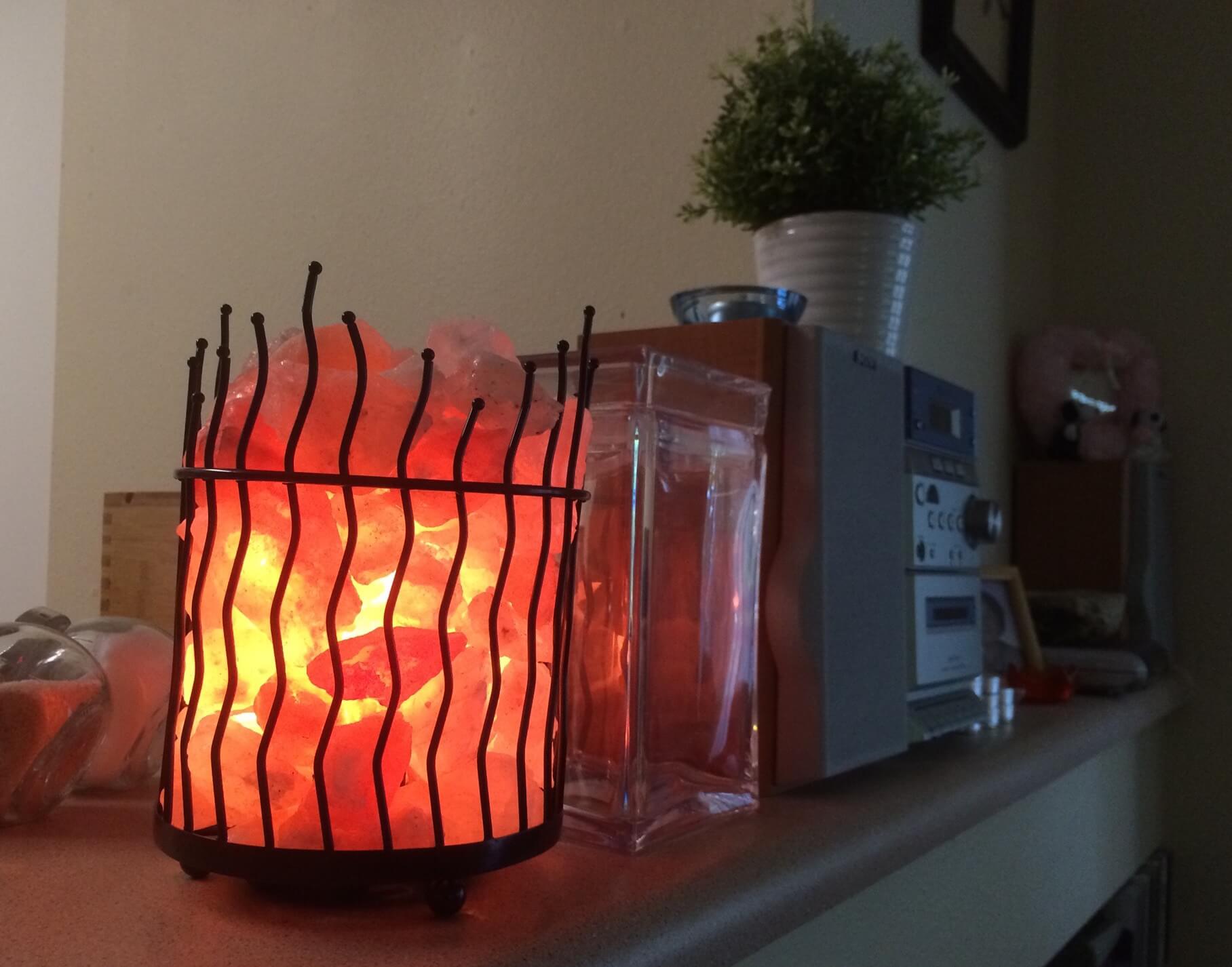 4. Himalayan Salt Candle Holders
If your budget is tight and you cannot afford to pay even $20, how about salt candle holders instead of a lamp? You can easily find one under $15 at Amazon in many different shapes and sizes. Once lit, the candles last 4 to 5 hours. If your mother likes to light candles, these holders may make a better gift for Mother's Day.
Read more about salt candle holders in this post.
I have so many salt candle holders and constantly keep 7 to 8 around when I work on my computer because of the health benefits explained later in this post.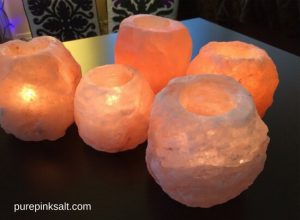 Of course, the best way to purchase these lamps or candle holders is to go to an actual store. You can handpick the exact one that you like without worrying about shipping.
The lamp in my study that I showed you earlier, I purchased it from a local store. I am lucky enough to have a lovely Himalayan salt shop in my area run by a German married couple. At the store, I normally purchase big lamps that would be too heavy to be mailed like this one sitting in the hallway. For this one, I paid about $100.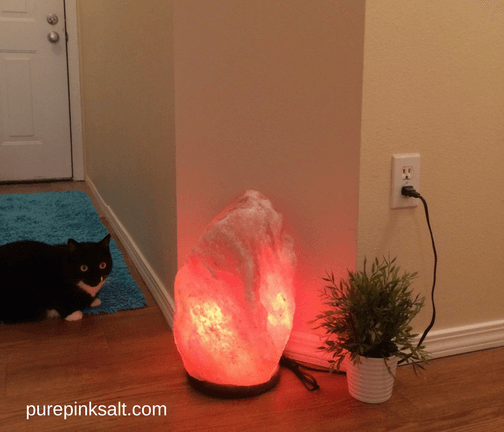 If you don't have a shop that specializes in Himalayan salt in your area, you can go to WholeFoods. They normally have a small selection of salt lamps. However, just bear in mind that these lamps are a bit pricey at WholeFoods. Once I saw the above basket lamp I have was sold for over $40 at WholeFoods. It is understandable, though, since WholeFoods is not a Himalayan salt shop. For this reason, I recommend going to a shop that specializes in Himalayan salt products.
Easy to Handle
Himalayan salt lamps don't require much maintenance. All you have to do is gently dust them off once in a great while.
Your mother can place the lamp on the coffee table by the couch, kitchen counter or pretty much anywhere she likes where she can enjoy its soothing glow on a daily basis. Just let her know that she cannot place the lamp in a humid place like a steamed up bathroom because it is going to absorb all the humidity and start dissolving.
As for the light bulb, you can mount either a 15W or 25W bulb for theses lamps. The first bulb comes with the lamp so you don't have to worry about it. If the original one is a 25W bulb, and you think she would enjoy dimmer lighting, you can always give her 15W bulbs as replacements.
Both 15W and 25W bulbs are easily found at Amazon. They are typically sold in a 6-bulb package and range from $7 to $14.
One light bulb would last for a long time in a salt lamp. I never turn mine off and it stays on 24/7. Nonetheless, I would perhaps change the bulb once every 9-10 months.
Health Benefit
Although there is no scientific evidence behind its effects, they say Himalayan crystal salt emits negative ions into the air and neutralizes electro-pollution when it's heated.
As this special type of salt was formed some 300 million years ago when Earth was pristine and not yet polluted whatsoever, it possesses the natural cleansing power from this ancient planet.
This is why I keep salt lamps and candle holders in my study close to the computer. I work many hours in front of the computer and I know my body is being bombarded by harmful electronic vibrations every single day. I cannot provide you the proof that the lamp is, in fact, reducing positive ions in the room but I can say that I do feel less tired working in front of the computer since I purchased the lamps.
Either online or in a physical store, Himalayan salt lamps can be quite an inexpensive Mother's Day gift even on a tight budget.
Inexpensive Mother's Day Gift Ideas ?
Does your mother enjoy making her home pleasant and looking nice? Perhaps she appreciates things natural. How about things beautiful? Then a Himalayan salt lamp would make a wonderful gift for her regardless of her age. She will feel rejuvenated and comforted looking at the soothing glow that these lamps radiate. She may gain a little spring in her step.
Either purchased online or in a physical store, Himalayan salt lamps can be quite an inexpensive Mother's Day gift. Tell her she deserves something beautiful because she is beautiful. Let's show our appreciation to our precious mothers with these beautiful lamps and make her smile!
Yuko