I don't think I ever noticed this lamp until very recently. When I first found it on Amazon, I thought, "Wow, this lamp looks different from other lamps on the market!" As a Himalayan salt lamp lover, of course, I had to get it for myself and I can tell you how happy I am that I did. Here is my Levoit Salt Lamp Review.
Watch the unboxing video below. You will see all about this beautiful lamp.
NOTE: The coupon code I am talking about in the video is no longer available. However, they often run a campaign on Amazon and this particular lamp is $29.99 at the moment. I don't know how long the low price lasts, so go to Amazon and see if the low price is still available.
My Levoit Salt Lamp Review
The salt lamp I am reviewing in this post is called Elora by the company Levoit. They are based in Southern California and the company's mission is to develop wholesome health and wellness in people's lives. Here I list what I like about Levoit Himalayan salt lamps compared to others on the market.
1. Quality of the Salt
Did I tell you that I am a Himalayan salt lover? I own 7 salt lamps and 10 candle holders in the house, so I feel I know good quality Himalayan salt when I see it.
When I compared the Levoit salt lamp with other lamps I have, I noticed the salt they use is a lot thicker. You can see it in the picture here. It penetrates less light so it looks dimmer. I'm not sure which you prefer, but I like a dimmer light as it gives me a more soothing feeling.
I also noticed the Levoit lamp has less dark spots on the surface of the salt.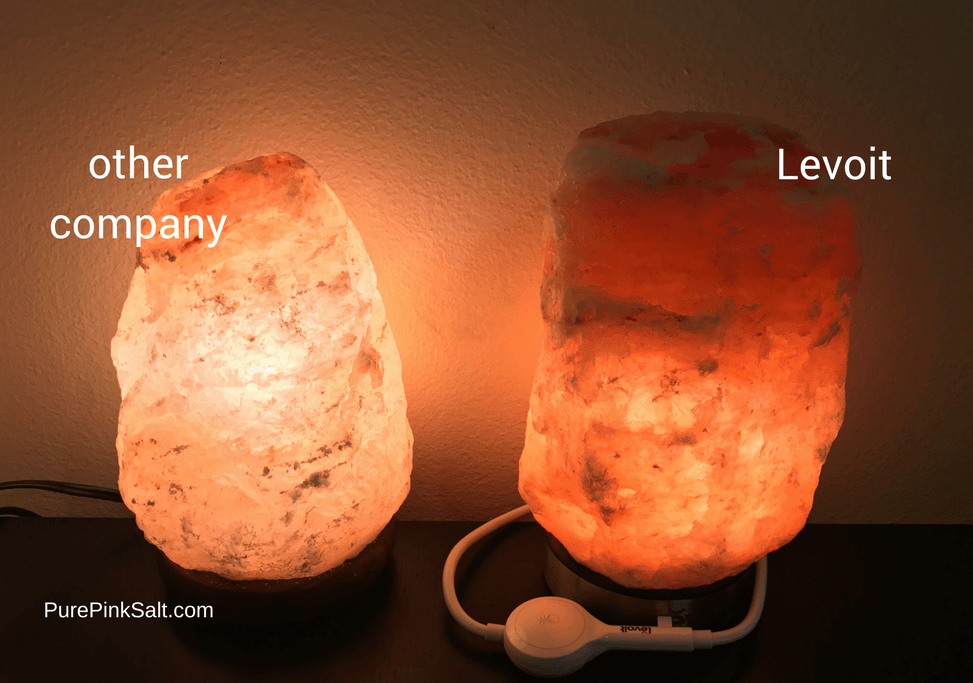 Here is what the company, Levoit, claims the quality of their salt lamps on their website.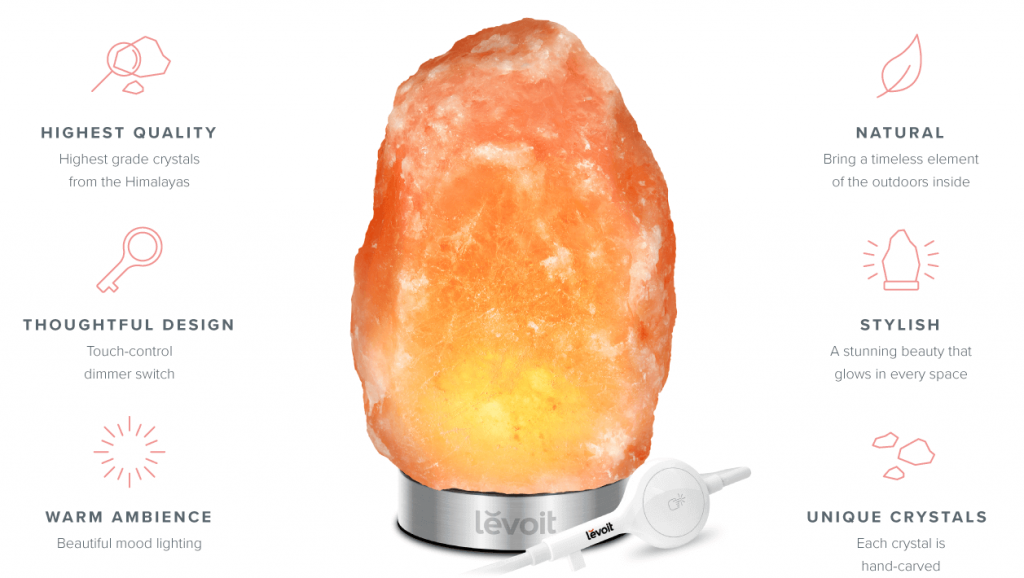 2. Stainless Steel Base – Looks so Chic!
Most of the salt lamps on the market have a wooden base. I own one with a marble stone base but it's very rare to find such a salt lamp especially online. I purchased mine at a local shop.
This Levoit salt lamp, however, doesn't have a wooden base. It has a stainless steel base, which I found quite unique. The lamp sure does look chic and stylish!
I was impressed by not only the look but also the structure of the base. Compared to other lamps with a wooden base, the Levoit lamp base seems to house the light bulb more securely.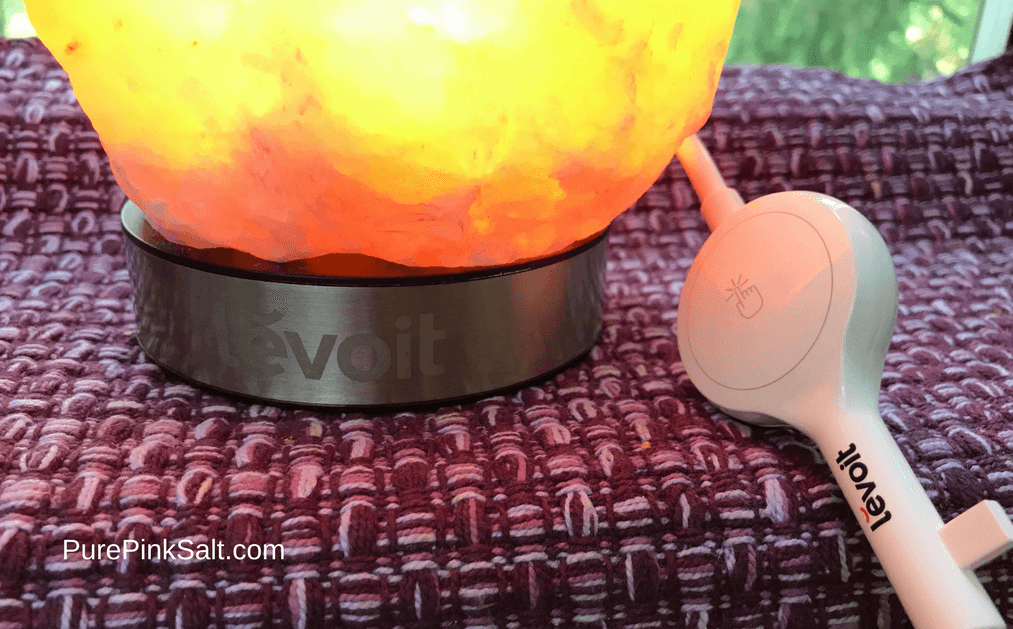 3. The Touch Controller
Another impressive feature of this lamp is their touch controlled lighting. You can simply tap the controller once to turn it on or off!
It may seem such a small thing, but it does make a world of difference when you are searching for the switch in the complete darkness when you just woke up. I ended up placing this Levoit salt lamp by my bed. When I wake up in the morning, all I need to do is stretch my arm and lightly touch this controller. It helps a lot when your mind is half asleep, you know.
What's great about this controller is that you can adjust the lighting to your liking. Simply press and hold it, then the light gets dimmer or brighter. I demonstrated it for you in the video.
4. It Takes a Tall 25W Bulb Too!
The lamp comes with a light bulb already installed. It's nice that they even provide an extra bulb in the package, so you won't have to worry about getting another 15 W light bulb for a long time.
However, you will have to get one for yourself eventually.
One thing I needed to make sure was if the hole of this lamp is deep enough to take a longer, 25W bulb. WHY?
Well, 25W bulb produces more heat than 15W, right? It means the salt gets warmer, meaning more power to cleanse the air. I like to use a 25W bulb for my salt lamps and once purchased a set of 6 bulbs off of Amazon.
However, these 25W bulbs are the long tubular type and didn't fit in half of my salt lamps. Their holes were too shallow to take these longer bulbs!
As you can see in the image below, the Levoit salt lamp originally has a short light bulb. I was curious to see if it takes the longer one too. The result? It DOES! I can install the 25W bulb in this lamp to get even more benefits!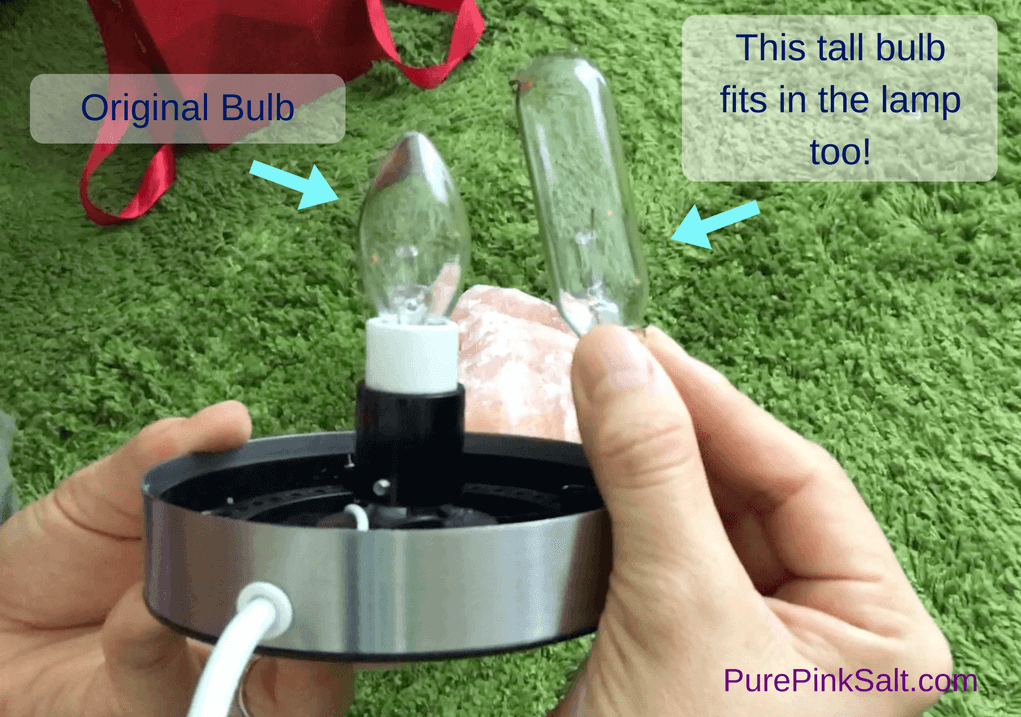 Himalayan Salt Lamp – Benefits
Himalayan salt is believed to emit negative ions when it's heated. It cleanses the indoor air by binding excessive positive ions from electric devices with their negative ions. In this modern era, who is not bombarded with harmful positive ions every day, right? Himalayan salt also reduces allergens and irritants. In a nutshell, it works as a natural air purifier.
Unfortunately, there is no scientific evidence for its effectiveness. I cannot present you any proof here. However, I can say that I feel a lot better in the house since I began using salt lamps and candle holders. I have a very sensitive respiratory system and react to the slightest change of temperature or dust in the air. Now, I sneeze a lot less when I am home thanks to Himalayan salt.
Levoit Salt Lamp – Discount!
This Levoit salt lamp will be a great addition to your everyday life. It makes a great holiday gift too. It comes in a very nice box with a carrying handle, so you can send it directly from Amazon as a prepackaged gift.
Levoit Himalayan Salt Lamp – Elora (List Price $39.99)

Again, the company seems to be running a campaign at the moment since this lamp is now $29.99 on Amazon.
I am not sure how long they will keep the low price, so you may want to check it out sooner if you are interested in this Levoit salt lamp.
I hope you enjoyed this review. Leave me any comments or questions down below in the comment area. If you do own Levoit Himalayan salt lamps, share with us your experience. Thank you!