It is how my love for this pink-colored salt all started. A few years ago, I received a Himalayan crystal salt candle holder as a Christmas gift.
Instantly, I fell in love with its beauty when I lit a candle in it. I was staring at the soothing amber grow and wondering, is this really salt?
And you know what I did after that. No, I couldn't resist the temptation and Yes, it was salty!
Now I cannot live without the salt candle holders.
For my job, I work many hours in front of the computer. Perhaps, you do too. Then, you know the exhausting feeling afterward. The eyes are tired, the body feels stiff, and entirely you feel energyless. It's because of the electronic vibrations that bombard our body.
So now, this is what I do on my desk when I work. (please don't laugh!) They say Himalayan salt neutralizes harmful electro-pollution. At first, I was skeptical and simply lit them in the study because they are pretty. Now, I know they purify the air. I do feel the difference!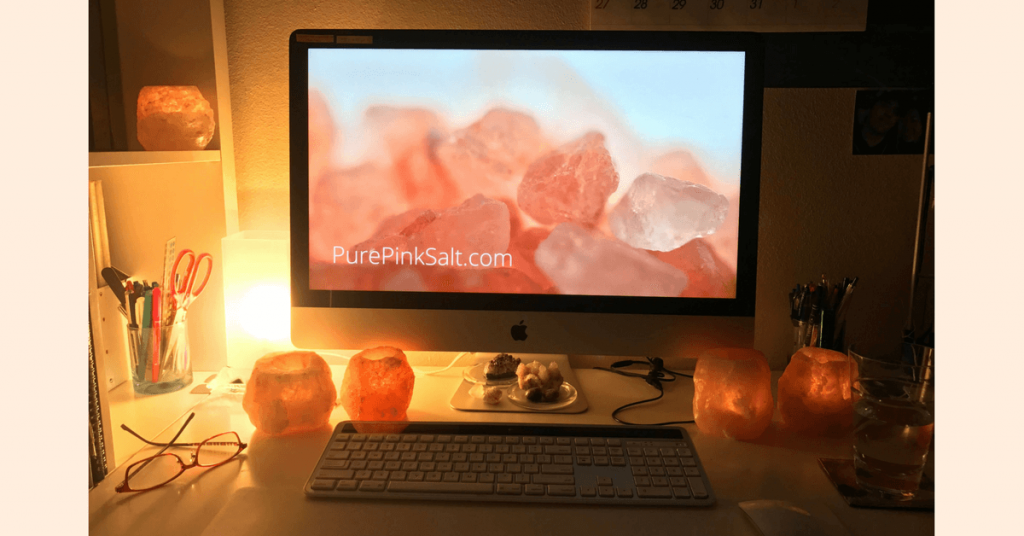 See how pretty these Candle Holders are
Health Benefits
After you've lit a candle in the salt candle holder, leave it for a few minutes and touch it. You can feel that the candle holder is nicely heated. It never gets too hot to touch.
It is believed that, when it's heated, Himalayan crystal salt emits negative ions into the air.
In this modern era, we are all exposed to excessive positive ions from electronic devices, right? They weaken our physical strength. Heated Himalayan salt binds those excessive positive ions with their negative ions. As a result, it neutralizes electro-pollution and reduces allergens and irritants.  It helps to cleanse the indoor air.
Unfortunately, there is no scientific evidence on its effectiveness as an air purifier. I cannot present here any proof. All I can say is that I do feel better when surrounded by the heated candle holders. I normally light 5 to 6 of them when I am working in my study as you saw in the photo.
I also have a very sensitive respiratory system and tend to sneeze with the slightest change of temperature or dust in the air. But when I light candles in the Himalayan salt candle holders, I sneeze a lot less or it completely stops.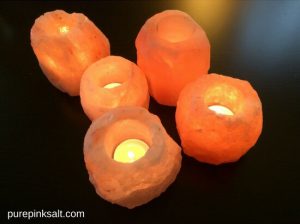 Another thing I noticed is the SMELL in the air. When I leave the room, for example, to get a cup of coffee in the kitchen and come back, as I open the door I can totally smell the cleanness of the air. It clearly smells different from other rooms in the house.
You know the smell of the pure air, like when you are walking in the woods or standing right by a huge waterfall. It is that kind of smell. Too bad that I cannot attach the smell to this blog!
So to me, I don't need any scientific proof. I know Himalayan salt candle holders are good for me and so I use them.
The purification may not be so evident with just one candle holder. Try lighting 3 to 5 in a room. Close the door. Leave the room and re-enter after some time passed. You should be able to clearly feel that the air has changed.
These candle holders are very affordable, $7 to $10/each usually. Why not give them a try for yourself? Even if they didn't work for your symptom, they are at least very pretty to look at.
Affordable Candle Holders 
Some candle holders are manufactured in particular shapes such as a cube, triangle, heart, star or diamond.
I list some of my recommendations here. You can find all of them at Amazon.
disclaimer: Pricing may be different from listing below as Amazon pricing can change from day to day, and they also offer daily deals. 

What Type of Candles Do I Use?
Himalayan Salt Candle Holders all take tea light candles.
Just place a tea candle in the holder and light it. The hole could be quite deep for a bigger one. The largest one I have is 5-inches tall with a 4-inch deep hole.
I recommend that you use a fireplace lighter with a long neck just like I did in the video above. Once lit, it starts radiating the soothing rosy light and one candle normally lasts 4-5 hours in these salt candle holders.
One thing to note. Not all candle holders are created equally. Sometimes you may find your tea candle may be a little too large to fit your particular holder. If you find the hole be a bit too tight for your tea candles, there is a simple solution. No need to scrape or drill the hole! Just fill the hole with water and it will get wider. It is salt after all. 🙂
Maintenance
These candle holders are made of salt, so please do not wash them. They are going to dissolve away!
If it gets dirty, or dark with soot you simply wipe the area gently with a damp cloth.
A Himalayan crystal salt candle holder makes for great company during your bath time after a long day. But be careful not to leave it behind in the humid bathroom as the water condensation will slowly begin to dissolve the salt candle holder. I've found it to be ok for the length of a normal bath time.
I once took a super long bath after a super long day and had a salt candle holder on the counter. It was truly rejuvenating to be relaxing in a warm bath as looking at the gentle amber glow.
However, I totally forgot to remove it from our tiny bathroom filled with steam. Next morning, I found the salt candle holder had started dissolving onto the counter! I could tell as some salt particles were forming around the base of the candle holder.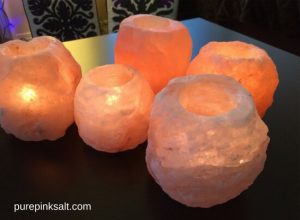 Himalayan Crystal Salt Candle Holder
For a romantic dinner with your significant other or to nurture yourself in solitude, a Himalayan crystal salt candle holder would be a wonderful addition to the atmosphere.
The glowing amber color truly soothes your feelings. It indeed is a precious gift from Mother Earth.
It also makes a great gift for your loved ones. I have given salt candle holders to many friends for birthdays, engagements, anniversaries, Christmas or just to cheer them up or make them smile.
I am a huge fan of other Himalayan salt products as well. I own many lamps, cooking boards, and cooking salt. They are pretty to look at and healthy to consume. Himalayan pink salt indeed added a pleasure to my everyday life. 🙂
I hope you enjoyed this post. If you have any comments or questions, please do leave them below!
Your friend,
Yuko