When a guest comes to our home, the first thing they notice is the large Himalayan salt lamp sitting in the hallway.
It's quite large (about 16 inches tall) and as we never unplug it, the lamp is constantly radiating the warm amber color to welcome anyone who steps into our home.
Naturally, it is the first thing I see when I come home from work, and I almost feel as if the himalayan salt lamp instantly neutralizes all of the bad energy that I bring home after a tough day at work.
This size of the salt lamp may not be as easy to obtain as smaller ones that you can find at many online shops, but it is definitely worth your money.
Health Benefits
They say that, when heated, Himalayan crystal salt emits negative ions into the air. It also neutralizes electro-pollution in your air and reduces allergens and irritants.
Although there is no scientific evidence behind its effects, I totally smell the difference when I burn candles in Himalayan salt candle holders. The air absolutely smells purified and it actually eases my sinus issues, such as sniffy nose and sneezing.
With salt lamps, to be honest, the change in the air is not as obvious as with salt candle holders.
I do not necessarily recognize the purification in the air. I just feel better when I am in a room with one of our salt lamps on.
We leave all of our himalayan salt lamps on all day long in the house. Unlike candles which you cannot keep burning for 24 hours, you can enjoy the soothing light and benefits nonstop with lamps.
To me, the benefits of these lamps are not only physical but mental as well. The gentle amber glow naturally fills the room with a calm atmosphere and it naturally makes me feel relaxed and balanced within.
When I have to quiet my mind and produce (especially write) something in my home office, the himalayan salt lamp is a great aid to help me get centered and focused.
Not sure if it means anything but I also find that our cats are often laying by the large lamps.
They seem to be fond of those spots around the lamps. People say animals are way more sensitive than us humans to energies around them, so perhaps our cats enjoy the cleanliness of the air the lamps radiate?
How Big are They?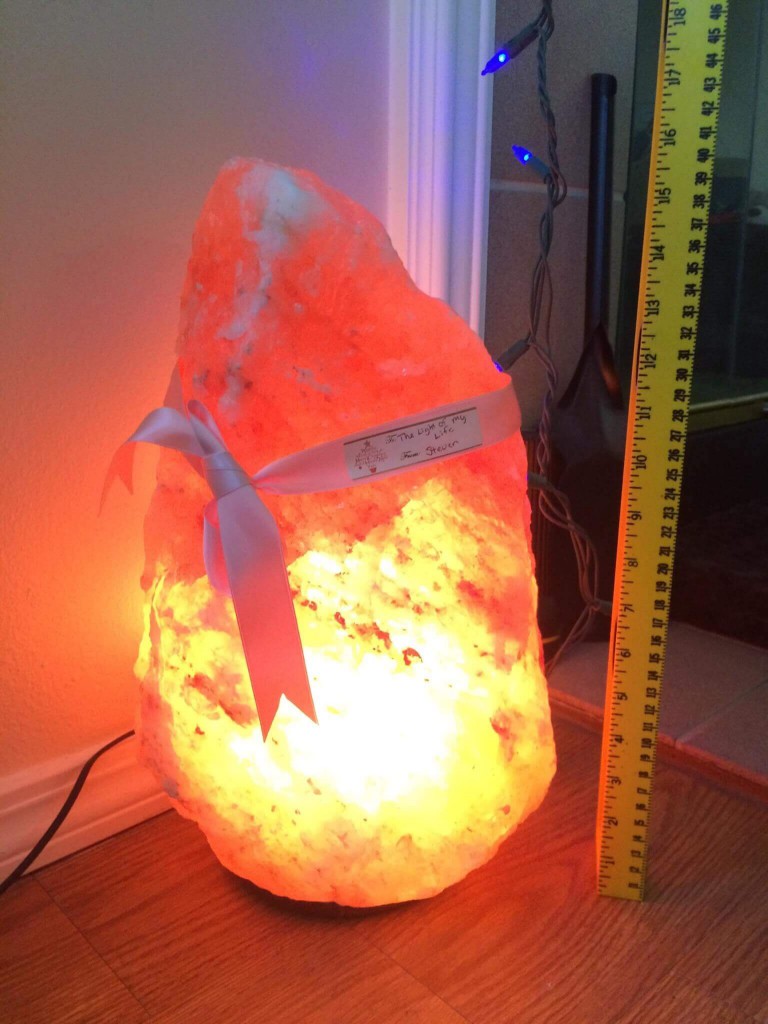 They are quite large and HEAVY.
The two large lamps we have in our place are both 15-16 inches tall and can weigh anywhere from 35-60 lbs, depending on the thickness of salt and the cavity for the bulb. I wouldn't be able to move those large lamps without my husband's help.
Because of its size, however, the lamp display a strong presence in the area and they definitely add a special atmosphere to the surrounding space.
This particular one in the picture was a Christmas gift from my husband 2 years ago. (I left the ribbon on). It's 16 inches tall as you can see in the measure standing by it.
How to Use
Unlike candle holders, salt lamps are pretty much carefree as all you have to do is mount a light bulb and leave it on all the time.
We have one in the hallway and one in the living room right by the fireplace.
Both large lamps have 40W light bulbs installed. (Other smaller lamps in the house have either 15W or 25W bulb)
Although we leave them on all the time, the bulbs usually last from 6 to 8 months without replacement. We normally get replacement light bulbs from regular grocery stores in the neighborhood.
Smaller salt lamps are placed on shelves in my home office and bedroom, but for a more spacious area like a hallway or living room, these large himalayan salt lamps are perfect.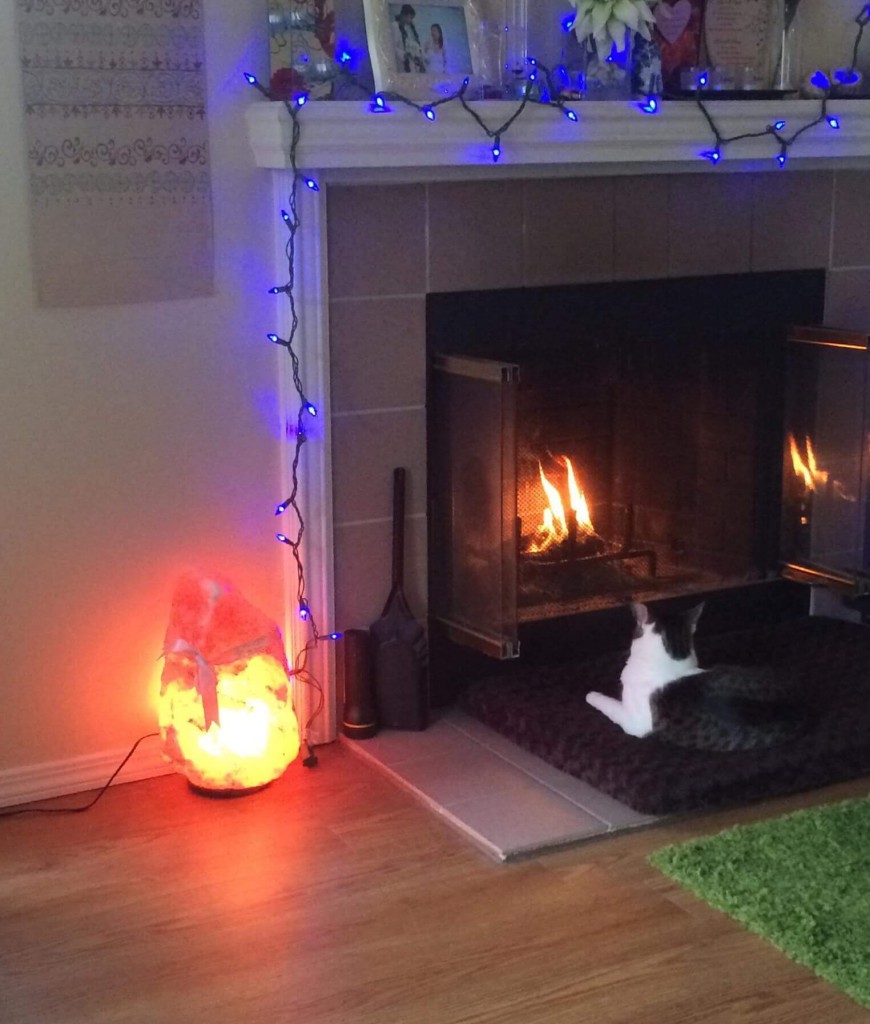 Maintenance
Just like candle holders, these lamps are made of salt, after all, so they don't take humidity well.
Keep it from humid areas such as a bathroom. Do not leave it out in the balcony where rain gets in. They will start dissolving!
Remember, they are made of salt after all.
We live with two cats and our place can easily get dusty with cat's hair. I occasionally wipe out the dust on the large Himalayan salt lamps sitting on the floor and that's all I have to do for maintenance.
We do not own any dogs currently, but knowing they sell small Himalayan salt licks for animals, your dog may want to use your lamp as a salt lick. Our cats don't lick the lamp, but if you are a dog-owner you may want to be mindful of your lamps location or placement.
Where Can I Get It?
We were lucky to find our large lamps in a Himalayan salt shop in our area.
In case you don't have a Himalayan salt shop nearby, I looked for similar large lamps on Amazon and thus far, this is the only one that seems equivalent to what we have.

Height: 15-18″ Tall
Weight: 54 -70 Lbs.
This large Himalayan salt lamp had decent reviews. If I purchase this from Amazon in the future, I would definitely add a report to this post!
Own a Large Himalayan Salt Lamp?
Do you own a large Himalayan salt lamp at home? Where do you place it and how do you like it?
Did you buy it in a store or order it online? Leave a comment below and share your experience with us!
I can promise you that a large Himalayan salt lamp will be a great addition to your house. Every time you look at it, it will give you this amazing feeling that such an ancient piece of our Mother Earth is sitting right there in your home.
It also makes a memorable gift for your friend's wedding or a new home.
I hope you enjoyed this post. Let me hear any comments or questions that you may have about large Himalayan salt lamps or anything related.
Your friend,
Yuko